3Rius Design Innovations offers a full service Design - Prototyping - Production Solutions to assist the industry and aspiring inventors to turn concepts into reality.
We assist our clients from Idea to product launch using systematic processes that are suited to the needs of our client with practical approach to the type of product, scale, budget and time required to launch to market.
Our team is well experienced in design, product development and product management using pragmatic idea-to-launch strategies to ensure superior product reaches the market faster and generating better profits.
We support our client's product innovation either through a quick launch to market strategy or through a comprehensive product development like a Stage Gate process, (a ground-breaking, widely-implemented process that expertly integrates numerous performance-driving practices into an easy-to-understand recipe for success).
We will be there for our clients to help implement, engage users of all decision-levels and functions, enable quality execution, timely decisions, with alignment and speed.
We follow lean product development approach to ensure that efforts, time and resources are managed effectively.
Our Process Flow will guide you through the following phases: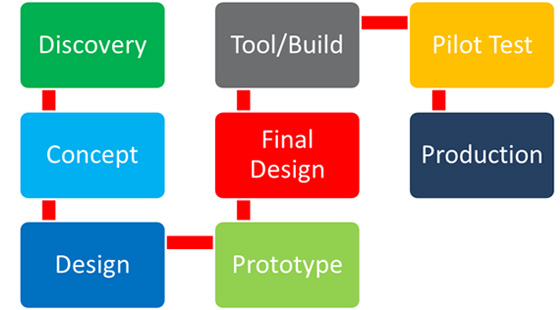 You can lean to us not only for design and prototyping but also to help you
on the following efforts:


The following  are our design tool that we widely use to work with our clients